12 Things You Probably Didn't Know About The Beatles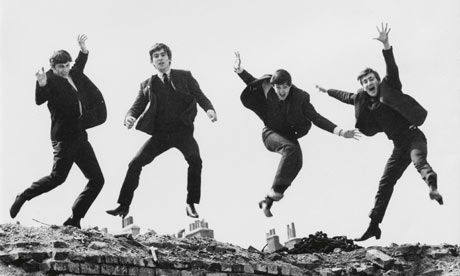 With Paul McCartney celebrating his 70th birthday yesterday (June 18th) and having visited Abbey Road Studios in London not so long ago, I'm in an even bigger Beatles mode than usual. So consequently I thought I'd share these 12 facts with you that I found on Oddee about the band that impacted music more than any other, The Beatles.
If you're a fan I'm sure you already know some of these, but I found them super interesting so I thought I'd share!
1. Ringo Starr's real name was Richard Starkey.
2. On December 17th 1963, James Carroll, a disc jockey at WWDC in Washington, D.C., became the first person to Broadcast a Beatles track on American airwaves. He played "I Want To Hold Your Hand," which his stewardess girlfriend had brought back from Britain.
3. Over 2,200 different artists have covered The Beatles' song "Yesterday" and it holds the record for being "The most recorded song of all time". Some of the artists include Elvis Presley, Frank Sinatra, Boyz II Men and The Supremes.
4. It took The Beatles just 10 hours to record their first album Please Please Me in its entirety.
5. The "na na na" fade out in "Hey Jude" takes 4 minutes. The chorus is repeated 19 times.
6. 23 of The Beatles' songs made it into Rolling Stone Magazine's list of "The 500 Geatest Songs of All Time." They are the most-represented musical act, followed by The Rolling Stones (14); Bob Dylan (12) and Elvis Presley (11).
7. "Sgt. Pepper's Lonely Heart's Club Band" was the first British rock album to have the lyrics for every song printed on the back cover.
8. The Beatles' iconic "drop-T" logo was based on an impromptu sketch by designer Ivor Arbiter and made its debut in 1963.
9. Despite popular belief, the title for the track "Lucy In The Sky With Diamonds" - the initials of each noun being LSD - was inspired by 4-year-old Julian Lennon's description of a painting he brought home from school, not the drug LSD. According to the band, in 1966, Julian came home from school with a drawing he said was of his classmate Lucy O'Donnell, whom Julian had drawn with diamond-shaped eyes.
10. In 1969, an urban legend emerged alleging that Paul McCartney had died and was replaced by a look-alike and sound-alike. Life Magazine later published an edition with a cover story stating that Paul was still alive, but some still believe the legend up to this day.
11. Paul McCartney originally wrote "Hey Jude" as "Hey Jules," a song meant to comfort John Lennon's 5-year-old son Julian as his parents were getting a divorce. The change to Jude was inspired by the character 'Jud' in the musical Oklahoma!
12. After Paul's song "Penny Lane" became a hit, the street signs for the actual Penny Lane in Liverpool disappeared so regularly (as they did on the real Abbey Road, London), that the town resorted to simply painting 'Penny Lane' on the buildings rather than having street signs.
You'll
♥
Loading related posts from sailthru...